Danville was the third of a series of modular layouts to be built by IMRA. The layout was first shown in 2003. The track configuration could have been found in a variety of locations across North America. In fact there's a Danville in 12 different states of the USA: California, Virginia, Indiana, Kentucky, Illinios, New Hampshire, Kansas, Vermont, Ohio, Pennsylvania, Maine and Washington.

Following a series of modelling and planning seminars Danville evolved from a refurbishment of an existing layout (originally to be called "Andrewstown") to a completely new layout. Andreas Keller ensured that the track plan allowed for prototypical operations.

Consequently Danville's track plan allowed us to run long through trains while being able to make and break trains in the yard with adequate run-arounds and head shunt tracks. This has allowed us to also use Danville in our clubrooms as a shunting layout as well. A new staging yard for this purpose was built in the clubrooms.

Rolling stock used on Danville belonged to individual club members. A wide variety of Eastern and Western US railroads were presented at exhibitions, as well as dedicated Canadian National running sessions.


IMRA operated Danville at 12 exhibitions from 2003 through 2007 when it was retired and salvaged for parts for next our American prototype project, Kelly River.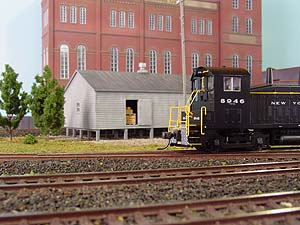 Danville was 6.0 metres long and 3.0 metres wide. Track work was code 100 and the points were controlled with Tortoise point motors. The three base boards (plywood boxes with cross bracing) were wired to a central control panel as were the three DC controllers.